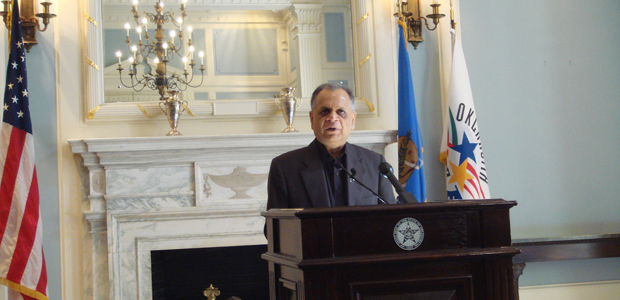 Oklahoma has honored AG Chairman Iqbal Z. Ahmed by declaring April 21, 2009, as "Iqbal Z. Ahmed Day."
The honor was bestowed, according to the proclamation issued by Gov. Brad Henry, for "Mr. Ahmed's efforts to bring stability to the region and improve relations between Pakistan and the United States [including] his support for President Obama's plan to add economic support to previously provided military support, shifting the priority for America's investment in Pakistan's stability; and … Mr. Ahmed's efforts to champion peace and stability in Pakistan and the region; improve relations between Pakistan and the United States; provide power to underserved areas of his country; and forge a mutually beneficial partnership between Pakistan and Oklahoma businesses as a positive example for everyone."
Lt. Gov. Jari Askins presented Mr. Ahmed with the official proclamation from Governor Henry at the ceremony held at the Oklahoma State Capitol. She thanked Mr. Ahmed for establishing Pakistan Power Resources in the state, for drawing attention to the international scope of Oklahoma's energy businesses, and for his efforts to bring power to Pakistan.
"We are looking forward to our partnership with Oklahoma-based companies in the development of much-needed power plants in Pakistan," said Mr. Ahmed. "These plants must go online quickly, providing electricity to areas of my country that are currently dramatically underserved. I am impressed with the get-it-done attitude of these companies and their ability to provide the high-quality expertise power projects require."
Mr. Ahmed discussed political instability in Pakistan and said he believes creating jobs and economic prosperity are the best way to combat terrorism. "I believe that America's more direct support for better healthcare, education, and more jobs by funding the construction of hospitals, schools, and roads and bridges will send a message to Pakistan's current and next generation and their political leaders that Pakistan and America are partners in the long-term," he said. "We have to give political leaders in Pakistan the support they need in order to make the hard choices that will stabilize our democracy."
David Walters, former governor of Oklahoma and an AG associate, attended the ceremony. Mr. Walters is a partner in PPR, which set up a brand new, 136-megawatt power plant at Bhikhi.
Mr. Ahmed made a special stop in Oklahoma for the ceremony on his way to New York City and Washington, where he attended a number of business and diplomatic meetings.