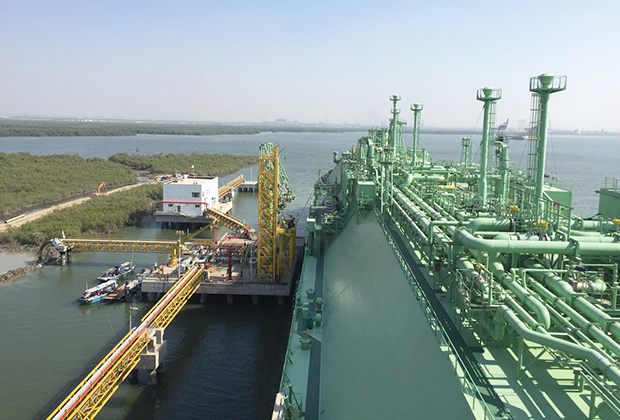 Pakistan GasPort Consortium Limited (PGPC)—the wholly owned subsidiary of Pakistan GasPort Limited (PGPL)—owns and operates the 750mmscfd LNG import terminal at Mazhar Point, Port Qasim, Karachi.
This landmark infrastructure project represents an investment of about half a billion dollars from PGPC in the jetty and marine works, Norway's BW Group (BW) in the brand new and state-of-the-art Floating Storage and Regasification Unit (FSRU), and Fauji Foundation's Fauji Oil Terminal & Distribution Company Limited (FOTCO) in the metering system and the 12.3-kilometer subsea and onshore pipeline from the jetty to the national gas grid.
Awarded through an international competitive bidding process, the PGPC project is providing LNG storage and regasification services to state-owned Pakistan LNG Limited (PLL) of up to 600mmscfd for 15 years at an availability of 96% and at a levelized tariff of $0.4177/mmbtu—the lowest in Pakistan and among the most competitive anywhere in the world.
Engineering, procurement, supply, dredging and construction services to the project were provided by the consortium comprising Xinjiang Petroleum Engineering Company Limited (XPE), CCCC Third Harbor Engineering Company Limited (THEC), and CCCC Third Harbor Consultants Company Limited (THCC)—with Denmark's COWI as the owner's engineer.
The terminal shall be the principal fuel source for 3,600 megawatts of new power generation plants set up by the Government of Pakistan and the Government of the Punjab. It will also yield an estimated $2 billion in annual foreign-exchange savings through fuel substitution.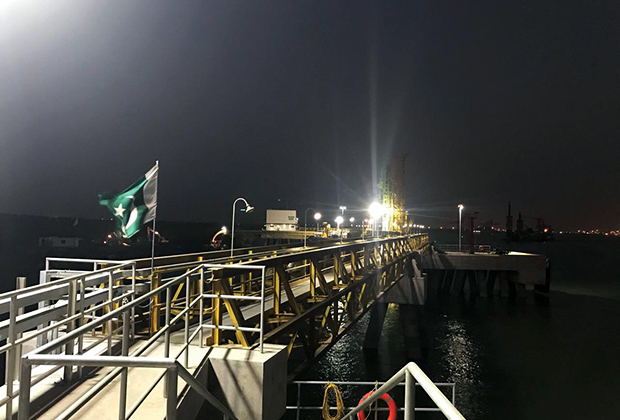 By the Numbers:
| | |
| --- | --- |
| ~$500m | Investment in the project by PGPL, BW, and FOTCO |
| 3,600MW | Electricity generation from PGPC imports at new RLNG-based power plants |
| 30% | LNG imports via PGPC as a conservative percentage of the current gas deficit |
| $2b/annum | Foreign-exchange savings from fuel substitution |
PGPC's environment protection regime and social action plan for community involvement is in accordance with World Bank guidelines.
Despite the country's first LNG policy being launched in 2006, Pakistan only commenced LNG imports in 2015. Today, Pakistan, whose energy mix is heavily reliant on natural gas, is a go-to destination for global LNG suppliers and investors. Demand for imported LNG in Pakistan is expected to grow steadily and reach 30 million tons per annum by 2020.
The FSRU for this project, BW Integrity, originally Hull No. 2118, was constructed by Samsung Heavy Industries in South Korea. It has a low environmental footprint, high efficiency, storage capacity in excess of 170,000m3 and peak regasification capacity of 750mmscfd. The christening of the FSRU took place at the Geoje shipyard on Jan. 12, 2017.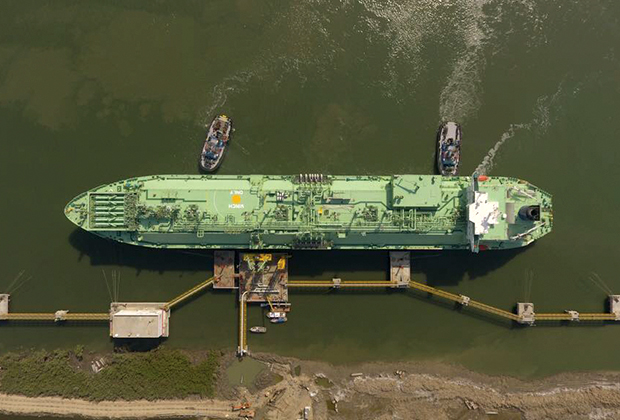 About BW Integrity
| | |
| --- | --- |
| Cost | ~$300 million |
| Capacity | ~5.6mmtpa |
| Project period | 15 years |
| Length/width | 292.5m/43.4m |
| Storage | 170,582m3 |
| Regas capacity | 750mmscfd |
| Mooring system | Single jetty |
| Gross tonnage | 106,793 |
| Deadweight | 85,200 tons |
| Year built | 2017 |
| Call sign | 9V5308 |
| Flag | Singapore [SG] |
H.E. Prime Minister Shahid Khaqan Abbasi inaugurated the project on Nov. 20, 2017. The commissioning cargo was successfully received on Nov. 24, 2017.
MESSAGES ON THE OCCASION OF THE PROJECT'S INAUGURATION
H.E. Prime Minister Shahid Khaqan Abbasi:
Two years ago, after overcoming many challenges, Pakistan started LNG imports. It is currently importing over 4.5 million tons per year. Today we are inaugurating the country's second LNG regasification terminal, which has a capacity to handle over 5 million tons of LNG per year.
I am pleased that BW, FOTCO, Trafigura and PGPC came together to develop this LNG terminal. It is a world-class facility capable of handling the biggest LNG carriers. The brand new, state-of-the-art FSRU used for this regasification terminal will result in greater efficiency and substantial savings in internal gas usage.
With the commencement of supplies from this regasification terminal, a large part of the country's urgent need for gas will be met and the power sector will greatly benefit from clean and efficient generation. Availability of clean burning, environment-friendly and comparatively inexpensive fuel will boost the economy and make our exports more competitive. In addition, it will contribute to GDP growth and provide positive effects for the social environment.
The Government of Pakistan is encouraging the setting up of LNG terminals and direct gas sale by the private sector. I am pleased to learn that today PGPC and Trafigura have announced their commitment to proceed with a second LNG terminal at Port Qasim. I have been informed that the two PGPC regasification terminals, FSRUs, and gas delivery systems will represent a collective investment of over $1 billion. This is a reflection of the industry's confidence in the policies of the Government of Pakistan.
Several other serious industry players are also planning to set up LNG terminals in the private sector. Pakistan needs all of these terminals and more to meet its needs. It is the policy of the government to provide a fair, balanced and attractive regulatory framework and transmission pipeline capacity to enable third-party access in the gas system. Investment in these projects is being made entirely by their sponsors, without any recourse to government guarantees.
We see Pakistan's demand for LNG growing to about 30 million tons per year by 2020 and the Government of Pakistan's target is to ensure availability of gas in any quantity to any consumer anywhere in the country. I am grateful to the companies who have invested in this important national project. I wish this project, the management of PGPC, and all its investors the very best. I am confident that they will find Pakistan to be a welcoming investment destination where the government facilitates and supports the operation and expansion of these vital infrastructure projects.
Mr. Sikandar Sultan Raja, Federal Secretary, Ministry of Energy (Petroleum Division):
The commissioning of Pakistan's second LNG terminal represents a significant step forward for our country's energy security and for the global energy sector. This project is proof that Pakistan is building a safe and secure future for our children. This terminal will increase the country's LNG regasification capacity to 1.2bcf and go a long way towards fulfilling the Government of Pakistan's vision of ensuring continuous and affordable energy to the people and to crucial sectors of our economy. This project is a testament to the highest standards of probity, fairness, and transparency. I congratulate everyone involved in bringing this mega project to life.
Lt. Gen. Khalid Nawaz Khan, HI (M) (Retired), Chairman, FOTCO:
It is with immense pleasure that we, FOTCO, announce the successful completion of the RLNG high-pressure pipeline and measurement system for Pakistan's second LNG terminal. The FOTCO pipeline will relay RLNG from the PGPC jetty to the delivery point on the national gas grid through a 1.3-kilometer subsea pipeline section, a 4-kilometer trestle-mounted section, and a 7-kilometer onshore and underground section. FOTCO feels very proud to be an integral part of this energy infrastructure project, which is of significant national importance. The pipeline has an inherent design capacity of 1.2bcfd; it will, therefore, also be available for the transmission of additional RLNG volumes from PGPC's upcoming second LNG import terminal.
Mr. Agha Jan Akhtar, Chairman, Port Qasim Authority (PQA):
Port Qasim Authority congratulates PGPC on the completion of its LNG import terminal. This is the country's second LNG terminal. The first, also located at Port Qasim, was commissioned in March 2015. The port's strategic location allows it to serve as a hub for Pakistan's economic growth, and with these two terminals—and the others planned at Port Qasim—PQA is fulfilling its potential as a vital and unparalleled growth driver for the country.
Ms. Yngvil Asheim, Managing Director, BW LNG:
Our heartiest congratulations to PGPC on this momentous occasion! Together with BW Group CEO Carsten Mortensen, Management Committee, and colleagues, we look forward to 15 years of strong partnership with PGPC and to delivering our commitments on time and of the highest quality in this project of national importance.
Mr. Iqbal Z. Ahmed, Chairman, Pakistan GasPort:
By the Grace of God, Pakistan GasPort's LNG import terminal has been successfully completed and will play its unique part in meeting the country's energy requirements.
With an estimated investment of about half a billion dollars by PGPC, BW, and FOTCO, this project is evidence of the strong faith that investors, local and foreign, place in Pakistan and its economic potential. PGPC is pleased to be working with BW, Trafigura and FOTCO on this facility. This milestone project, awarded through an international competitive bidding process overseen by U.K.-based Galway Group, will provide up to 600mmscfd of LNG storage and regasification services to state-owned PLTL, at a tolling tariff of $0.4177/mmbtu, and another 90mmscfd of RLNG to private sector buyers.
PGPC and Trafigura are expeditiously developing another LNG terminal, which will also be located at Mazhar Point, for the private sector and without any buyback guarantees from or financial exposure of the government. The two LNG terminals alone will represent an investment of about $1 billion. PGPC's principal sponsor, Associated Group (AG), and Trafigura are also advancing the setting up of the country's first refrigerated LPG import terminal.
We are ready, willing, and able to provide viable, world-class solutions to overcome our country's energy crisis. PGPC and its associates wish to thank His Excellency Prime Minister Shahid Khaqan Abbasi and the Government of Pakistan for opening and growing the Pakistan market to investors. For their support to this project, we wish to thank, among others, the Ministry of Energy, the Oil and Gas Regulatory Authority (OGRA), PLTL, Pakistan LNG Limited (PLL), Mr. Agha Jan Akhtar and PQA, Lt. Gen. Khalid Nawaz Khan (retired) and FOTCO, BW, Trafigura, XPE, THEC, THCC SSGC, Customs authorities and the Federal Board of Revenue (FBR), the State Bank of Pakistan (SBP), the Sindh Environmental Protection Agency (SEPA) and the Government of Sindh, Arif Habib Limited, our investors, consultants, counsels, and financing institutions. We are grateful to everyone involved with this project for their hard work and dedication in making it possible.
| | |
| --- | --- |
| Total terminal capacity | 750mmcfd |
| Capacity contracted by PLL | 600mmcfd |
| Tariff | $0.4177/mmbtu |