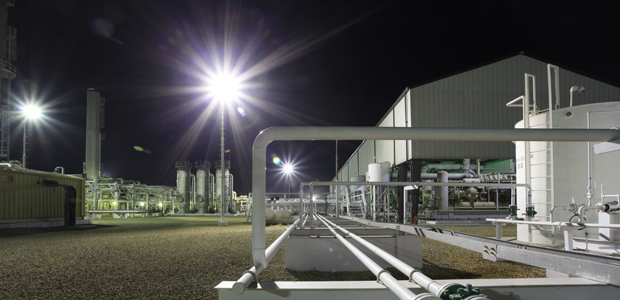 Jamshoro Joint Venture Limited is Pakistan's largest private-sector gas processor.
Incorporated and existing under the laws of Pakistan, JJVL is an unlisted public limited company with its headquarters in Lahore and its gas-processing facilities at Jamshoro, Sindh. Its state-of-the-art 200mmscfd LPG extraction plant was commissioned in March 2005 and its 125mmscfd plant in October 2014. Today, JJVL has a real total processing capacity of 345mmscfd, and represents the largest investment made so far in the country's LPG sector. Its replacement value is $150 million.
JJVL was the first LPG producer in Pakistan to import and utilize patented Ortloff technology that guarantees it the highest propane recovery rate in the country and which makes its facilities among the most efficient in the world.
The gas-processing plants were engineered, procured, constructed, and commissioned by Houston-based Exterran (formerly The Hanover Company), which is listed on the New York Stock Exchange. Exterran also operates and maintains the plants.
Reach
LPG production at JJVL meets the energy requirements of some 2.5 million households across Pakistan. This product is sold by Sui Southern Gas Company Limited (SSGC) to LPG marketing companies duly licensed by the Oil and Gas Regulatory Authority (OGRA) to undertake operations.
By facilitating the setting up of brand new LPG marketing companies when it started, JJVL ensured the creation of new markets, the expansion of existing ones, and ushered in greater competition in the sector to the advantage of consumers. Based on supplies from JJVL, downstream investment in the value chain has created some 15,000 jobs.
JJVL regularly imports product, especially during high-demand cycles, to ensure the availability of LPG nationwide and to maintain the sanctity of the value chain.
Safety
For the safety of end-users and to allow detection of leaks from LPG cylinders, JJVL is the only producer in Pakistan to odorize its product.
JJVL has one of the most effective Quality, Health, Safety, and Environment departments in Pakistan's oil and gas sector. Through resource materials, training programs and one-on-one support, the QHSE department ensures compliance with all aspects of best industry practices and internationally-applicable safety regulations, including those prescribed by the U.S. Occupational Safety and Health Administration (OSHA). The department is managing programs covering hazard and aspect identification and inspections, orientation, training and supervision, safe-work practices and procedures, incident investigation, first-aid and emergency services.
JJVL is certified ISO 9001 for its quality management system having demonstrated its ability to consistently provide product that meets customer and applicable statutory and regulatory requirements. JJVL is certified ISO 14000 for its environmental management system that enables measurement of environmental impact, reduction in waste management, and savings in consumption of energy and materials. JJVL is also certified OHSAS 18001 which helps minimize risk to staff and the environment.
JJVL has taken measures to keep facility emissions and noise in check. Waste is disposed off safely, and noise emissions are kept between 80 to 100 decibels so that residents in the surrounding areas are not impacted. JJVL has a strong firefighting system in place and conducts regular emergency drills.
Compliance
As an industry leader, JJVL complies with all statutory reporting requirements under the laws of Pakistan. All statements, financial and otherwise, duly reviewed by the appointed auditors of the company are provided to shareholders, financial institutions, and authorities on a timely and responsible basis. JJVL operates transparently and provides all production and sales data on a daily, weekly, monthly and quarterly basis to the regulator as well as the Ministry of Petroleum and Natural Resources.
JJVL's measurement systems are maintained regularly to ensure accuracy and this data is provided to customer companies and relevant official agencies, including the Environment Protection Agency. JJVL meets all applicable environmental and safety standards. It is committed to maintaining high standards of ethics and integrity in the conduct of its business practices and to remain a valuable and worthy industry leader.
Contributions to the National Exchequer
In the 10-year period from the financial year started July 1, 2004 (FY2005) to the financial year ended June 30, 2015 (FY2015), JJVL has made the following contributions to the national exchequer:
In Rupees (millions)
| | |
| --- | --- |
| Sales tax | 10,795.22 |
| Income tax | 2,562.16 |
| Excise duty | 98.58 |
| Workers Welfare Fund | 246.33 |
| Workers Profit Participation Fund | 682.38 |
| Total | 14,384.66 |
Additionally, JJVL has provided SSGC—which made no investment in the project whatsoever—the following payments during the same period:
In Rupees (millions)
| | |
| --- | --- |
| Royalty | 16,257.03 |
| Shrinkage | 18,370.78 |
| Transportation | 407.72 |
| Fuel cost | 186.25 |
| Additional royalty | 5,048.80 |
| Total | 40,270.59 |
JJVL's exports during the period total Rs. 16,822.98 million or, based on the applicable exchange rates at the relevant times, $206.44 million.
Additionally, during the three-year period from the financial year started July 1, 2012 (FY2013) to the financial year ended June 30, 2015 (FY2015), JJVL has purchased Rs. 9,796.03 million worth of LPG and Rs. 3,712.75 million worth of NGL from SSGC totaling Rs. 13,508.78 million.
Rating
JCR-VIS Credit Rating Company Limited has maintained JJVL's medium- to long-term entity rating at A+; its short-term entity rating at A1; its medium- to long-term secured debt rating at AA; and its medium- to long-term outlook as "stable."
JJVL is one of Pakistan's largest taxpayers. Its external auditors are Deloitte Touche Tohmatsu Limited.
Recognition
Through its entrepreneurship, risk mitigation measures, import and successful deployment of patented technologies, aggressive promotion of safety standards and best industry practices, investment in corporate social responsibility programs for the sustainable development of host communities, support to stakeholders across the value chain, JJVL has established itself as the country's leading LPG producer and one of the most valued and respected companies in Pakistan. JJVL has worked diligently to raise awareness about LPG and its benefits in order to promote safety standards across the value chain and discourage deforestation and to inform policymaking that benefits both the industry and end-consumers.
JJVL's operational excellence and leadership of Pakistan's LPG sector has been recognized by its peers. JJVL has been a finalist every year since 2006 at the Platts Global Energy Awards.
In 2012, JJVL was a finalist for the Industry Leadership and Commodity Excellence (Natural Gas) awards; In 2011, it was a finalist for the Energy Producer of the Year, Industry Leadership, and Downstream Operations of the Year awards; In 2010, JJVL competed for the Downstream Operations of the Year award; In 2009, it was a finalist for the Downstream Operations of the Year and Rising Star awards; In 2008 and 2007, JJVL was up for the Rising Star award; and in 2006, it was a finalist for the Downstream Business of the Year and Energy Pioneer awards.
The Platts Global Energy Awards recognize exemplary industry leadership and finalists are chosen from across the international oil and gas sector.
Corporate Social Responsibility
JJVL was at the forefront of flood-relief efforts in Sindh in 2012, 2011, and 2010 by delivering relief goods to affected areas, setting up camps, and supporting governmental and nongovernmental organizations working across Sindh.
JJVL continues supporting initiatives for the sustainable socioeconomic development of the local community in Hyderabad district. JJVL has donated water filtration plants, supports the annual Lion's Trust eye camp, cosponsors initiatives of the local administration, distributes free food and medicine to the underprivileged, and is aiding the setting up of the Jamshoro SOS Children's Village.
JJVL's demonstrated ability to attract investment for Pakistan and globally-recognized partners is a testament to its standing as an energy sector leader and to the commitment it has to serving Pakistan's energy needs. On its own and through support to the Zohra and Z. Z. Ahmed Foundation, JJVL has contributed Rs. 63.85 million to charitable initiatives.