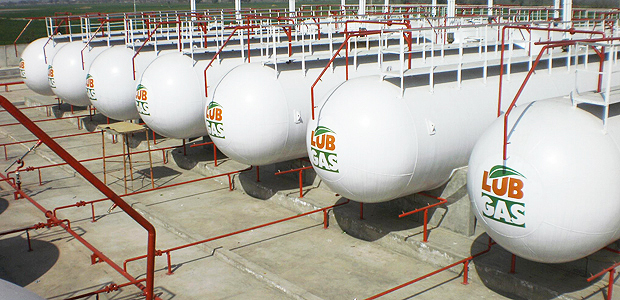 Lub Gas, founded in 1989, is Pakistan's leading LPG marketing company with nationwide distribution and sales operations.
The most reliable provider of affordable LPG in the country, Lub Gas product is available to households, industries and small businesses, motorists, and communities reliant on synthetic natural gas directly and through its extensive network of distributors.
Lub Gas's filling plants at Dakhni and Dhodak are both certified ISO 9001:2008, validating the company's quality management system in accordance with International Organization for Standardization requirements. The certification is pursuant to Lub Gas having demonstrated its ability to consistently provide product that meets customer and applicable statutory and regulatory requirements, and aims to enhance customer satisfaction through the effective application of its quality management system. Lub Gas plants operate under strict HSE and best practices guidelines.
Lub Gas is also establishing Pakistan's largest mid-country LPG storage and filling facility at Rana Town. This facility will increase Lub Gas's fixed storage capacity from 350 metric tons to 3,036 metric tons. (Lub Gas has a cumulative storage capacity of over 8,000 metric tons.)
The company also utilizes hospitality services to provide bottled LPG to its distributors at Aujla, Dakhni, Gujrat, Haroonabad, Jaranwala, Kamoki, Multan, Nankana Sahib, Raiwind, Rana Town, Rawat, and Su-e-Asal in the Punjab province; Peshawar in Khyber-Pakhtunkhwa province; and Karachi and Hyderabad in Sindh province.
Distribution
Totaling 437, Lub Gas has 286 distributors in the Punjab, 87 in Khyber-Pakhtunkhwa and Gilgit-Baltistan, 24 in Pakistan-administered Kashmir, 20 in Sindh, 14 in the federally-administered tribal areas, and six in Balochistan.
Lub Gas has an ongoing cylinder requalification program to ensure that all its cylinders in circulation comply with applicable safety standards. As of Oct. 31, 2012, Lub Gas's cylinders of 6kg, 11.8kg, 15kg, and 45.4kg total 2,490 metric tons of portable storage capacity.
Transportation
Lub Gas operates the country's largest fleet of LPG bowzers. The fleet of 100 bowzers, each with a capacity of 25 metric tons, operates nationwide and provides safe and timely transportation at highly-competitive rates for a host of LPG marketing companies, including its associated concern Mehran LPG. Lub Gas also has five bobtail bowzers with a carriage capacity of 10 metric tons each. These smaller bowzers allow Lub Gas to deliver product to congested urban centers with minimal traffic disruption.
Lub Gas bowzers adhere to strict, international HSE standards and are equipped with state-of-the-art tracking systems to ensure efficient transportation of LPG, accurate billing based, and real-time monitoring of each bowzer.
Substitution
In December 2005, Lub Gas undertook a public-private partnership collaborating with Sui Southern Gas Company Limited, a public sector gas utility company, to establish an LPG-Air mix facility at Gwadar, Balochistan, which provided piped synthetic natural gas to households and businesses in the port city. Since then, Lub Gas has provided affordable product to additional LPG-Air mix facilities established by SSGC in Balochistan and in Sindh.

Corporate Social Responsibility
In accordance with AG's corporate social responsibility charter, Lub Gas is keenly aware of its obligations to the scores of communities where its product is used. From the 2005 earthquake to the 2010, 2011, and 2012 floods, Lub Gas has been contributing directly and through the Zohra and Z. Z. Ahmed Foundation to relief and rehabilitation work in Pakistan.
By the Numbers
Total storage capacity: 8,075 metric tons
Nationwide distributors: 437
Cylinders in circulation: 183,893
Filling plants: 19
Bowzers: 100
Bobtails: 5
Lub Gas is also a member of the LPG Association of Pakistan.
For a list of Lub Gas's active distributors, click here.