By Ron Moreau, Newsweek International, March 26, 2006.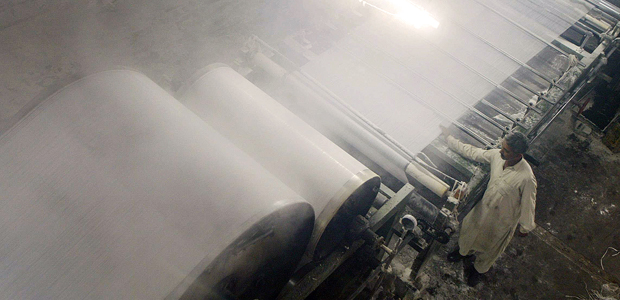 In the late 1990s Lahore-based businessman Iqbal Z. Ahmed was depressed. Pakistan was isolated internationally and in the grip of a deep recession, and his modest, liquefied-petroleum-gas operation didn't seem to be going anywhere. "I used to get up and say, 'what the hell, it's another day,'" he recalls. "Now I can't wait for the day to begin. I see a very bright future."
Ahmed has good reason to be optimistic. A few years ago he signed a deal with Houston's Hanover Company that has helped transform his LPG business into the largest and most efficient in Pakistan. Backed by several international investors, Ahmed plans to bid for a controlling interest in Sui Southern Gas, one of two state-owned gas distribution companies that are being privatized. And he recently signed up with another Houston-based company to import liquefied natural gas into Pakistan in supertankers. "We're enjoying a sea change in economic conditions and opportunities," says Ahmed, 60. "Pakistan is open for business."
The proof is in the numbers. Last year the country's GDP growth rate hit 8.4 percent, the world's second highest behind China, following two years of solid 6 percent growth. This year the economy is predicted to expand by nearly 7 percent. After years of instability, with the government and military trying to distract people from their economic woes by waging jihad in Kashmir and railing against neighboring India, a true middle class is now developing. Economic reforms have given the government money to invest in health and education, and foreign investors are eying Pakistan for the first time. In many ways the country has become the world's most surprising economic success story. It's a heady turnaround for a nation that, in the late 1990s, was practically a failed state with near-zero GDP growth. Because of its headlong pursuit of nuclear weapons, Pakistan had become the world's most sanctioned nation after Libya. International aid had dried up. The government was forced to borrow at exorbitant short-term rates, burdening the country with a crushing $38 billion debt. "We were in a real soup when [Gen. Pervez] Musharraf took over," says M. Ziauddin, the Islamabad editor of Dawn.
One of Musharraf's first and smartest moves after his 1999 coup was to appoint Shaukat Aziz, a dapper and urbane international banker, as his economic czar, and to give him a free hand to revive the economy. But what really turned the country's fortunes around was September 11. "The 9/11 attack was the best thing that ever happened to Pakistan," says Lahore-based businessman Salmaan Taseer. The United States and Europe immediately lifted all sanctions; Washington gave Pakistan $600 million outright to meet urgent debt payments, and forgave another $1.5 billion in debt. Working with Aziz, America and other creditor nations also rescheduled Pakistan's heavy debt over a manageable 30 to 35 years. In 2004, the United States pledged $3 billion in economic and military assistance over the next five years, in addition to $100 million for education reform. The EU pitched in, lifting quota restrictions on Pakistan's main export, textiles.
At the same time, Aziz, who is now prime minister, began enacting a series of common-sense economic reforms. They focused on boosting fiscal discipline, government transparency and accountability. He quickly cut the budget deficit from 8 percent to 4 percent by slashing spending, and lowered interest rates. Since 2002, he has increased tax revenues by 20 percent. He also instituted a sweeping privatization program that has won kudos from both domestic and foreign investors. State-owned companies in numerous industries—banking, cement, fertilizer, utilities—have been sold off, as has a chunk of the state's inefficient telecom giant, PTCL.
The newly privatized and cash-flush banks have been on a lending spree, extending loans to capital-starved domestic businessmen and to the Pakistani middle class, which until 2002 had little access to consumer credit. People have snapped up credit cards, and are buying cars and other big-ticket products with easy-credit bank loans. "This is the best government we've had in the past 30 years," says prominent Lahore businessman Syed Babar Ali, who heads some of the country's biggest joint-venture companies, including Coca-Cola and Nestlé.

Foreign investors have been flocking to Pakistan to bid on privatizations and on licenses in the newly opened telecom sector. The sale of two cellular-phone licenses (won by U.A.E. and Norwegian companies) netted the government nearly $600 million. It's a good investment as Pakistan, with 24 million cell-phone users, is now the world's fastest-growing wireless market after China. Indeed, Pakistan is expected to receive upwards of $3 billion in foreign investment this year, largely in telecom and gas and oil exploration. The Karachi Stock Exchange recently hit a record high.
Bullish domestic investors, too, are snapping up telecom licenses and state assets. Businessman Taseer raised $40 million from Pakistani banks and $25 million from a U.S. venture-capital company in two months as part of his successful bid for a wireless license. He is also building a 350-room Hyatt hotel and shopping-mall complex in Lahore with $40 million in debt and equity that he organized from domestic banks and investors in just six weeks. "This would have been inconceivable before," says Taseer, 62, a cigar-smoking tycoon who publishes Daily Times and is constructing Lahore's tallest office building. "Not long ago, we would have waited at least three years to get a loan from an international bank. In the last two years there has been more economic activity in Pakistan than in the past 50."
Even Pakistan's nascent technology sector—dwarfed by India's—seems to be taking off. Salim Ghauri, the CEO of Lahore-based NetSol Technologies, says his company's software revenues this year are expected to jump to $19 million, compared with last year's $11 million. DaimlerChrysler uses Ghauri's LeaseSoft auto-leasing and financing software in its operations in eight Asian countries, and Toyota uses it in Thailand and China. "We are competing with the best in the world, and we are coming out on top," says Ghauri, 51, who set up NetSol in 1996 after he returned from working as an IT consultant in Australia.
Still, all is not rosy. Pakistan must modernize its creaky infrastructure, further improve tax collection and, most important, normalize economic relations with India. Government critics say the current boom is not benefiting the country's poorest citizens, who make up more than one third of its 160 million people. "The rich have become very rich since 9/11, and the middle class is better off, but not the mass of Pakistanis," says Dawn's Ziauddin. Aziz counters that a recent government-sponsored survey indicates that the country's heady growth has reduced the number of Pakistanis living below the poverty line from one third to a quarter of the population.
Some bankers and economists warn that the economy is dangerously overheating, due to unsustainable consumer demand and easy credit to both industrialists and consumers. Aziz and the government dismiss the concern—but consumers and the private sector have borrowed more money from the banks in the past two years than they had in the previous 12. Critics argue that growth-spawned inflation, which hit a high of 11 percent one year ago and is running this year at 8.5 percent, is a big reason the poor are not benefiting from the boom. "Inflation is clearly eroding the purchasing power of the poor," says a foreign banker in Islamabad. This year the price of sugar is up by 26 percent; wheat and potatoes, by 15 percent.
According to the foreign banker, who asked not to be named because of the sensitivity of his comments, "The government is running the [economy] like it is heading for elections." True: President Musharraf and Aziz are eying the crucial 2007 parliamentary elections. Organized political opposition to Musharraf is rising, and he and Aziz are hoping that an economic resurgence will persuade average voters to return them to power for another five years. That's what most businessmen are hoping for, too. But if the rewards of the boom don't start trickling down, the country's runaway growth could ironically prove to be the government's undoing.