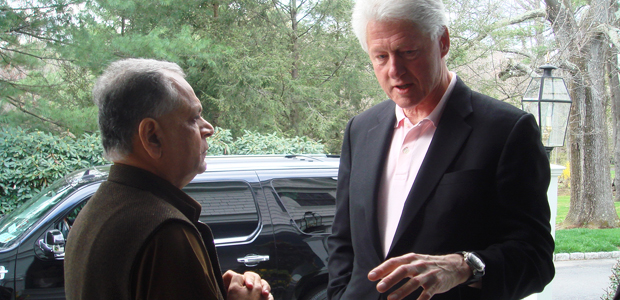 AG Chairman Iqbal Z. Ahmed met with former U.S. president Bill Clinton at his residence in Chappaqua, New York, on April 24, 2009.
Mr. Clinton spoke of his efforts, as president, to encourage Pakistan toward real, participatory democracy and to facilitate normalization of Pakistan-India relations for regional stability. He spoke of the need to promote Pakistan as a place for global business, and said that the sustainable and transparent development of the Pakistani economy, especially through technical and equity support from the U.S. government as well as American corporations, would contribute toward combating terrorism.
Mr. Clinton said his wife, U.S. Secretary of State Hillary Clinton, and the State Department's Special Representative for Afghanistan and Pakistan, Richard Holbrooke, were working on deepening America's commitment to Pakistan by supporting the economy in a way that creates meaningful employment opportunities and signals his country's long-term interest in Pakistan's prosperity and security.
Mr. Clinton expressed his support for the democratically-elected government of Pakistan, and also invited AG to participate in the Clinton Global Initiative. He also appreciated AG's work with U.S. companies to augment Pakistan's power generation capacity, and congratulated Mr. Ahmed for signing up with Newsweek to launch a Pakistani edition of the iconic American newsmagazine.
David Walters, former governor of Oklahoma and an AG associate, Asim Iftikhar, and Fasih Ahmed also attended the meeting, which lasted for an hour and a half.