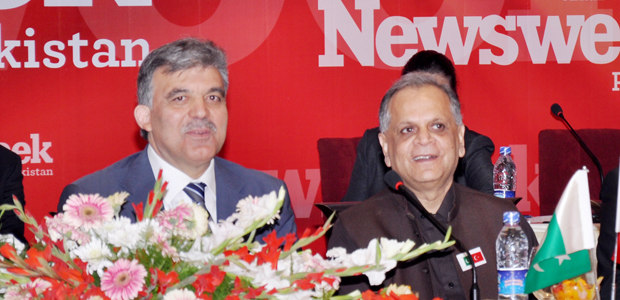 Newsweek Pakistan had the honor of hosting an exclusive event for Turkey's President Dr. Abdullah Gül at Lahore on April 2, 2010.
The event capped President Gül's official four-day visit to Pakistan. Punjab Chief Minister Shahbaz Sharif and members of the Turkish Parliament attended the event, which was closed to the press. AG Chairman, and Newsweek Pakistan's publisher, Iqbal Z. Ahmed managed the proceedings, which focused on augmenting business relations between both countries.
Turkey and Pakistan are part of the D8 as well as the Economic Cooperation Organization, which has developed and implemented the Pakistan-Iran-Turkey cargo train service to facilitate trade among the countries and also allow, hoped President Gül, Pakistani products with more cost-efficient access to European markets.
President Gül appreciated Chief Minister Sharif's announcement to set up a 225-acre industrial estate in Faisalabad for Turkish joint venture companies and cited Turkish assistance to Pakistan. He said his country has released 10 percent of the $100 million pledged at the Friends of Democratic Pakistan forum and its private sector is assisting Pakistan meet its energy requirements. Turkey's Zorlu Energy has set up Pakistan's first wind-based power project at Jhimpir, and another company, Karkey Karadeniz, will provide Karachi with up to 500-megawatts of barge-mounted rental power.